About Us

Founded in 1999, the California Fuel Cell Partnership is an industry/government collaboration aimed at expanding the market for fuel cell electric vehicles powered by hydrogen to help create a cleaner, more energy-diverse future with no-compromises zero emission vehicles. Staff from member organizations participate on standing committees and project teams that help ensure that vehicles, stations, regulations and people are in step with each other as the technology comes to market. CaFCP's success is directly linked to the commitment and involvement of our member organizations.

Collaboration is Key

CaFCP members collaborate on activities that advance the technology, often creating consensus that saves time, effort, and money. Some projects, like public outreach and first responder education, are ongoing and involve a team of staff and members. Other projects arise around one issue, such as a process for commissioning stations. Staff and members come together as a team to address it and, when completed, the project team disbands.
Regardless of the issue or matter, CaFCP and its members are engaged on a day-to-day basis to advance the deployment of fuel cell passenger vehicles, transit buses, and trucks.

Leadership

Chair: Prof. Dr. Christian Mohrdieck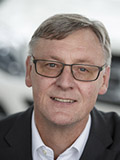 Prof. Dr. Christian Mohrdieck has been Fuel Cell Director of the Daimler Group since 2012 and CEO of NuCellSys GmbH since 2015. After studying physics in Germany and France, Prof. Mohrdieck joined Daimler-Benz Research in 1989. In 1995 he became head of the Executive Office of the Member of the Board responsible for Research and Technology in Stuttgart. In 1999 Prof. Mohrdieck was appointed Senior Manager for Fuel Cell Systems with DaimlerChrysler Corporation in the U.S. Back in Germany, he then became Director of Structural Materials at DaimlerChrysler AG and afterwards in 2003 Director of Alternative Energy and Drive Systems. In 2005, Prof. Mohrdieck assumed the responsibility for Fuel Cell Drive System Development. In 2006, he also became responsible for Li-Ion battery development at Daimler AG. Two years later, Prof. Christian Mohrdieck was appointed Director of Fuel Cell & Battery Drive Development. In 2013, he was awarded an Honorary Professorship at the University of Ulm.

Executive Director: Bill Elrick


Bill Elrick is the California Fuel Cell Partnership's Executive Director. Previously, he held the Technical Program Director position for 7 years, bringing his active tenure in alternative fuel transportation to 20 years. Under his leadership, CaFCP members have developed new analysis tools and detailed roll-out plans that industry, state and federal agencies reference in planning support for hydrogen stations. He works directly with industry stakeholders including automakers, station developers, medium and heavy duty fuel cell vehicle developers, and government to facilitate collaborative actions that fulfill each organization's needs. Bill has a master's degree in urban and regional planning from Ball State University and an undergraduate degree from the University of Indiana.